The Ultimate 4 Week
Belt/Mix Voice Intensive


"Oh Yeah! I Can Belt!"
Is what you'll say when you complete the Ultimate Belt & Mix Voice Intensive with NINE of the WORLD'S LEADING TEACHERS,
RESEARCHERS & COACHES!
MAY 30-JUNE 24
Tuesdays & Saturdays



ALL CLASSES
"LIVE" ON ZOOM

11 AM - 5 PM [EST]
ALL CLASSES RECORDED
Rewatch Your Favorites in
your on-demand class library



REGISTER TODAY!
28 MASTERCLASSES +
INTERACTIVE Q&A
COACHING SESSIONS!
COMMUNITY SUPPORT APP ! CHAT WITH
SINGERS & TEACHERS!
CAN'T ATTEND A CLASS? NO WORRIES REWATCH YOUR IN YOUR LIBRARY!
TRACK YOUR GROWTH & WITH PRACTICE CHALLENGES!
YOUR EXPERT VOCAL COACHES
Lara Chapman
200K Followers IG
903K Followers TikTok, songwriter, vocal coach, founder of VoxTape Studios and author of The Confident Singer.
Philippe Hall
30+ years international singing career, speaker, vocal coach, founder of Singing Revealed, author of The Four Activities of Singing.
Paul Mckay
250K Followers YouTube
professional singer & coach specializing in high belt, mix, head voice, improv, & founder of OneVoice Music Academy.
Jordan Mitchelle
41K Followers IG
75K Followers TikTok
professional singer, coach, singing competition adjudicator, founder of
Mindful Singers.
Aramat Sharon
"Teachers Teacher" certified NCVS Vocologist, certified in SLS & Estill, founder of the Israeli Voice Association, author LEV - Learn to Evaluate Voice.

Gregory West
71K Followers YouTube
founder of Studio West, CCM vocal coach, synthesizing SLS, CVT & EVT into a unique singing & teaching approach.
Dot Todman
30+ year professional career singer, songwriter, composer , author of C.O.R.E Vocal Power & celebrity Vocal Empowerment coach.
Sandro León
multi-discipline certified vocal coach, songwriter & pro singer, resident vocal coach for The Voice (Perú) & founder of the Peruvian Voice Association.

Kerrie Obert
SLP, Researcher & voice specialist for over 25 years, Kerrie is one of the world's leading researchers on the subject of Twang.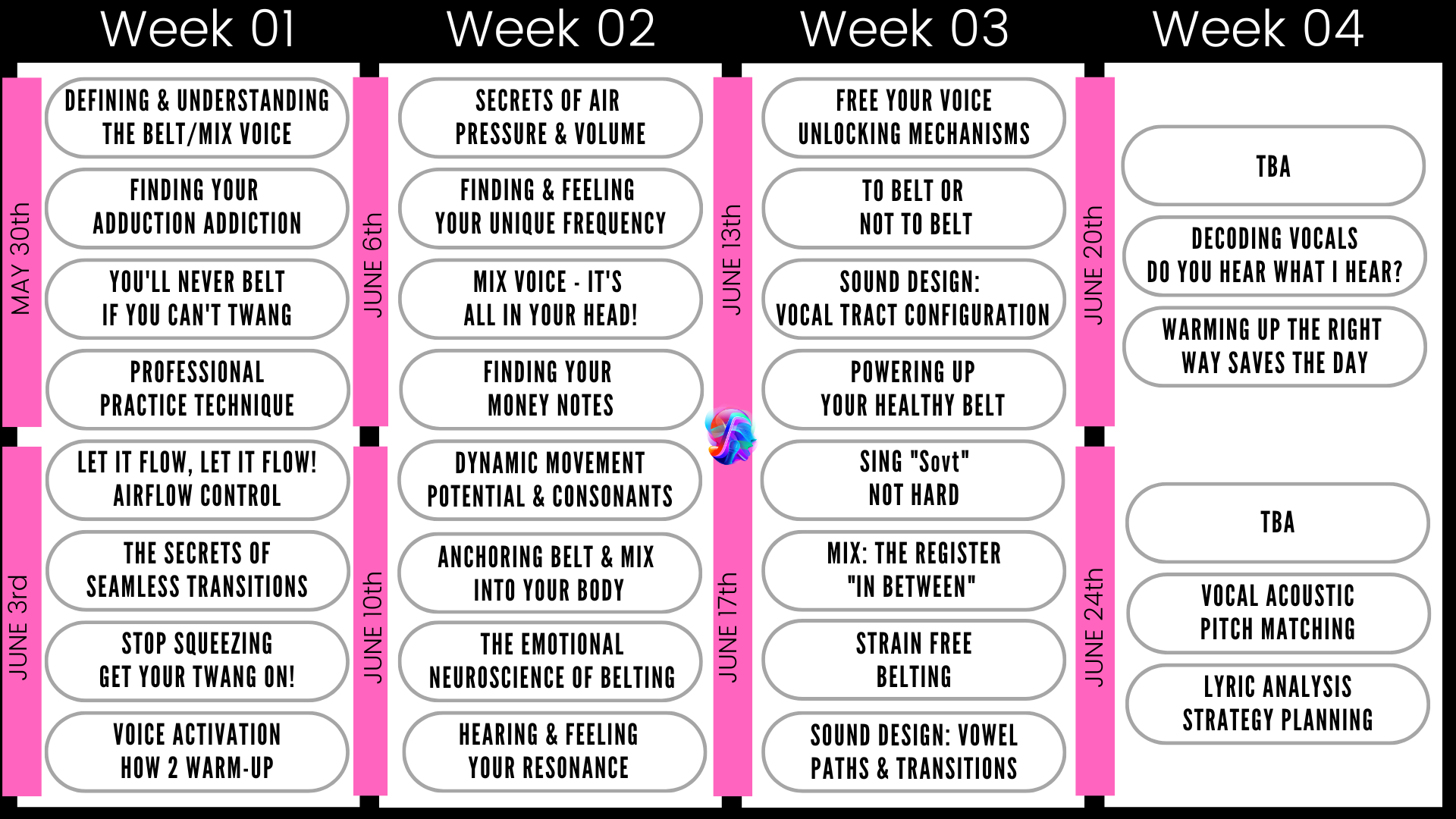 ✓ LIVE CLASSES on ZOOM!
✓ 11:00AM - 5:00PM [EST]
Tuesdays & Saturdays
✓ FORMAT
30min Technical presentation
60min Live Q&A + Coaching
✓ RECORDED
ALL classes are archived to your
On-Demand library for you to
✓ ACCESS & RE-WATCH
Your favorite classes or
Classes you MISSED until
August 01, 2023.
✓ Recommended age 12+.
ADD-ON
Personal Coaching
BOOK A 1:1 ONLINE COACHING SESSION
WITH ONE OF OUR EXPERT VOCAL COACHES!
*First come first serve! Extremely limited availability! Only available post registration! Book your session(s) while they last!
REGISTER TODAY
The Ultimate 4 Week
Belt/Mix Voice Intensive
"Oh Yeah! I Can Belt!"
TIME IS TICKING!


SECURE YOUR SPOT NOW!
I'd like more information
about this event.
WATCH THIS TRANSFORMATION
INVEST IN YOURSELF


YOU DESERVE THIS